"Whether you think you can or think you can't, you're right." — Henry Ford
Get Your Head In The Game:
How to train your mind to boost your physical fitness and well-being
Brain Training
Mindfulness is just as important as physical training and key to achieving success. Here's how:
1. Define your goals – You can't get anywhere until you decide where you're going. Why are you training? Is it for weight loss, body building, toning, agility, balance, posture, feeling better, looking great? Think about what you want to accomplish and write it on the worksheet below.
2. Stay on target – Keeping your objectives top of mind will motivate you to come to the gym, do your workouts to the best of your ability, and stick to your nutrition plan. Think about your goals daily as a refresher. Pair them with positive thoughts, such as, "I can do this."
3. Fear not – People are sometimes intimidated about going to a gym – until they get here. PZF is a friendly place where everyone is treated with respect. By showing up and doing your best, you will gain confidence and forget anxieties. Don't worry about what other people are doing. Our members are focused on their own goals and not on passing judgement on you or anyone else. Your confidence will grow as you continue to show up. Ask for help and directions when you need them, and don't be afraid to laugh. Your time at PZF is for you, and our staff is your support team.
4. Do one thing at a time and do it well – Train your mind to be in the now, to master present-time consciousness. What you do mindfully today will determine how well you perform tomorrow. Think, "I can do this," during your workout, and concentrate on doing the moves exactly as directed. If you're not sure about something, ask the trainer.
5. Failure is awesome – Failure is perhaps the greatest learning tool because it pinpoints what you need to work on. Fear of failure is an inhibitor that makes you unwilling to try. When you learn your limits, then you can train to exceed them. And when you do, you'll feel the thrill of achievement.
Positive thinking nourishes the mind. It helps you grow and elevates your mood. Nega­tive thoughts hold you back. Both are self-fulfilling prophesies.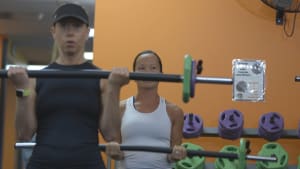 With that said, here are 6 questions to ask yourself when creating a roadmap for your own mind!
1. What are your reasons for getting in shape?
Don't write, "Get in shape." Be specific! Write numeric weight loss / inch loss or gain / strength goals.
2. How will you stay connected to your goals?
Don't write "eat right / stay focused / work out." Make a plan. Here are some examples:
1. Schedule workouts at the beginning of each week.
2. Set alerts to remind you to work out.
3. Have a scheduled time for meal prep each week.
4. Set alerts for the time and foods in each zoning meal.
5. Schedule a weekly mental recap of what you've done to reach your goals.
6. Post a motivational quote to read every day.
7. Have a motivational video to view daily.
8. Schedule a weekly weigh in.
9. Take a weekly results photo.
10. Send your workout stats to a friend after each workout.
Write two or three that seem doable and helpful and that you can commit to.
3. How will your life be different once your goal is reached?
Be specific. Don't say, "I'll be in shape."
4. Make a realistic two-week goal.
Keep it simple, such as "Follow PZF meals," "Don't cheat at night," "Work out four times each week." Set a realistic two–month physical goal.
5. Write different times you have failed in achieving a fitness/weight-loss goal.
This should be personal. Take the time to really think about it.
6. How will this time be different?
Write why will you succeed this time.
Summary:
This evaluation is designed to get you geared up for the exciting future ahead. Whether you are two months in or just need a reboot, creating a mental game plan is ALWAYS the key to success. Be honest, take it seriously, and don't be afraid to articulate what you want. PUT THIS WHERE YOU WILL SEE IT EVERY DAY! GET MOTIVATED!