"Every Day You Either Get Better Or Get Worse. YOU NEVER STAY THE SAME ." - David Goggins
Muscle Confusion - The Truth:
You've heard of "muscle confusion," which is often touted as an important factor in fitness.
The theory is that continually varying your exercise routine will enhance muscle development and prevent stagnation.
It turns out that mixing up your routine doesn't make a whit of difference in muscle thickness or strength, but it does boost your motivation to hit the gym, which is a critical factor in any fitness program.
These are the findings of a study published in Plos One, an online journal of scientific research.
Physical education and physiology professors had 21 athletic men perform an 8-week resistance training program. Half of them did a fixed routine of exercises and repetitions while the others' workouts were randomly varied by an app.
In the end, both groups displayed the same degree of muscle growth as indicated by ultrasound measurement.
However, participants who followed the diversified program showed "significant, moderate improvement in the intrinsic motivation to training," while the other group presented "non-significant decreases in this variable."
In other words, the people who did the same sequence repeatedly actually became slightly less interested in weight training.
This can happen at health clubs where weight classes feature the same exercises over and over, but it will never be an issue at Peak Zone Fitness.
We have a 365-day program that is carefully designed to strengthen and tone your entire body, and every daily workout is different.
Like many Peak Zone members, you may find your determination to hit the gym rises along with your fitness level. Welcome to the club.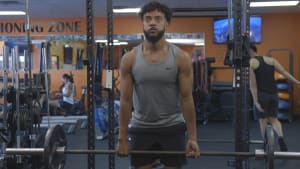 With that said, here are the 5 common fitness myths! 👊
1. Use "muscle confusion" to keep your body guessing and prevent it from getting used to your workouts
While mixing up your exercises to focus on different areas from time to time can be a good thing, some people fall into the trap of doing too much variety. In essence they do a "flavor of the day" workout. This means that they come in and do all sorts of different exercises without knowing what muscles they are actually focusing on. They also do not know how much weight or how many repetitions they should be doing to get good results.
2. The more sore you are after a workout, the better a workout it was
Muscle soreness occurs when your body receives a new training stimulus, like a new exercise, or added weight or repetitions. While soreness is not necessarily a bad thing, it is not the only indicator to how good a workout was. In fact, too much soreness can actually mean you over did it. To learn more about this, we will look at muscle protein synthesis, which is the process of repairing, recovering and adding muscle to the area you worked out.
3. Lifting weights makes you bulky
This myth has been perpetuated partially in thanks to the many magazine covers, fitness models, and Mr. Olympia shows that feature extreme physiques (many of which may be enhanced by being on "the juice"). However, at the end of the day, it all comes down to testosterone. Men have more testosterone than women and this increases their ability to put on muscle. The more testosterone you have the more muscle mass you will have because of the testosterone's ability to increase muscle protein synthesis (Griggs, 1989).
4. You need to do more core exercises to shrink your stomach
Doing endless amounts of crunches and planks won't help you to lose the fat around your stomach. Unfortunately the stomach is the first place that our body stores fat and one of the last places it takes it off from. We aren't able to spot reduce any area on our body no matter how many exercises we do for that area.
5. Long bouts of steady state cardio is the best way to lose weight
While cardio will help out your weight loss initially and should be included in a healthy exercise regimen, it should not be the first step in a weight loss plan, and should certainly not be used as the only piece. Cardio will burn off more calories than your average weight lifting session, there's no disputing that. However, our bodies adapt to cardio very quickly. Instead, I encourage my clients to focus on strength training first and use cardio as more of a turbo button.