"Talent wins games, but teamwork and intelligence win championships ." - Michael Jordan
Group Fitness Is In:
Nearly 60 million Americans attend a group workout at least once a week, according to MindBody, the largest technology platform serving the fitness industry.
Whether strength training, dance or yoga, getting active with others has serious advantages over working out alone.
Group exercisers are more satisfied with their level of fitness than those who go solo, according to MindBody's survey of 20,000-plus Americans in major cities.
They're also happier and feel closer to friends, family and their communities than solo exercisers.
All of this indicates that group classes like those at Peak Zone Fitness are remarkably effective for achieving good health – a state of physical, mental and social well being.
But any form of physical activity releases chemicals that boost your mood and relieve stress. The more you work out, the better you feel.
Those who exercise the most – at least five times a week – know this. They say their top motivation is to live a long and healthy life. Number two is to be strong and fit, and three is to look better.
It's a little different for people who get active once a week or less. Their primary reason is to lose weight, second is to feel good, and third is to reduce stress.
On average, survey respondents work out 2.6 times each week in studios, at home or outdoors.
More than 42 percent get active at least three times a week, with 55-to-60 year olds being the most dedicated (48 percent) and young adults aged 18 to 22 the least (42 percent).
Men work out more frequently, with 54 percent reporting three or more weekly workouts compared with 43 percent of women.
Anyone who has ever visited Los Angeles won't be surprised to learn that Angelenos are the biggest fitness junkies, with 87 percent making time to work out at least once a week.
How does your routine compare with the survey respondents?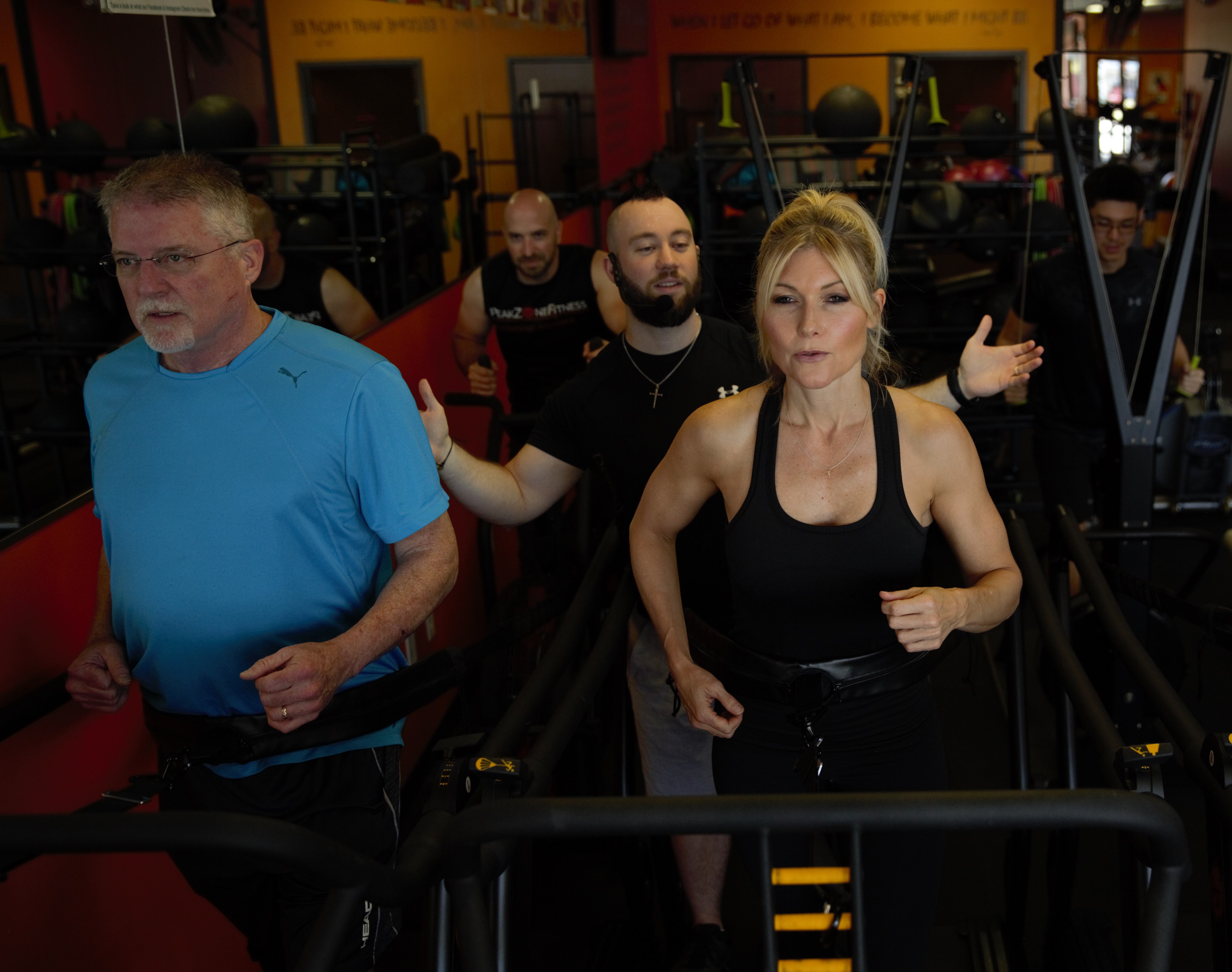 With that said, here are 5 reasons why people choose to have a group workout! 👊
1. Expert guidance with no guesswork
One of the main reasons people are drawn to group fitness is the expert guidance they receive from certified instructors. An exceptional group fitness instructor is proficient in the art of creating enjoyable movement experiences that keep participants committed to their health and wellness journeys. There's no guesswork when it comes to how to structure your workout session— the GFI has done the work for you.
2. Accountability to create a workout routine
The fact that group fitness classes occur on a set day and time works wonders with creating structure around physical activity, even for people who struggle with workout consistency. As opposed to hoping you'll make it to the gym at some point during the day, choosing a class to attend and signing up in advance creates a greater sense of accountability and enables you to plan your day around your workout (and your health!).
3. Social support and so much more
The feeling of being part of something bigger and the camaraderie forged in group fitness classes is something that quite simply can't be replicated. Group fitness classes exude positivity, and serve as a welcome invitation for people of all different ages, backgrounds, and ability levels to come together in one inclusive experience to move with passion and intention, all without judgement or expectation.
4. Explore movement in a new way
If you find yourself stuck in a fitness rut, group fitness can be a perfect option for adding variety to your routine, while also ensuring a well-rounded approach to exercise. Do you dread the idea of running on a treadmill to get your cardio in? Try attending a dance-based fitness class to improve endurance while burning just as many, if not more, calories. Feeling uninspired to focus on your flexibility? Try a yoga class to improve your range of motion and enhance your movement quality.
5. Fitness and fun rolled into one
Hands down one of the most commonly cited reasons people choose to attend group fitness classes is because of the fun factor. Group fitness classes prove the old saying "no pain, no gain," couldn't be further from the truth. In fact, an effective workout can and should be a fun one, as the more enjoyment you experience during exercise; the more likely you are to stick with a regular routine of physical activity.